ORANGE SCOTT CUMMINS
aka THE PILGRIM BARD
May 12, 1846 - March 24, 1928
---
Orange Scott Cummins was born May 12, 1846, at Zenia, Harrison Co., Ohio. He was the son of the Reverend George Irwin CUMMINS, a native of Washington, Maryland, and Mary Ann CLYDE CUMMINS, a native Kent County, Delaware.

At the age of 18 months, "Scott's" family moved from Ohio, to Suasqueton, in northeastern, Iowa. As most of the settlers in this area were Mesquoquie Indians, Scott's many playmates were Indians. In his association with the Indians, he was quick to learn their customs, traditions and habits. It was from this influence and association that he later wrote the "Legend of Cone", which is published in his book, Musings of the Pilgrim Bard.
---
In 1861, when the Civil War broke out, Scott CUMMINS enlisted at Drakeville, Iowa, in Company A, 3rd Iowa Cavalry. He participated in all of the battles of General Wilson's Cavalry Raids. Scott was mustered out at Davenport, Iowa, on August 8, 1864, after over three years of service. At the time of his discharge, his family was living near Centerville, Iowa.
On April 4, 1865, in Appanoose Co., Iowa, Scott married Mary Melinda MARTIN, who was born in Hendrix Co., Indiana on October 27, 1848. They moved to a farm given to them by Mary's father. In 1869, Scott and Mary went to Kansas to visit his family who had moved there.
---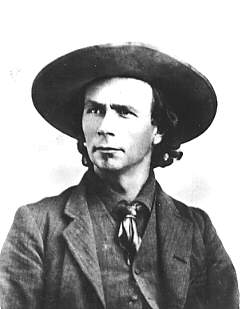 In 1870, Scott was in Wellington, Kansas and was recognized as one of the founders of that city. He was a Justice of the Peace and proprietor of Wellington's first hotel, The Frontier House.
In the summer of 1877, Scott traded his Iowa homestead in Appanoose Co. for horses and cattle. The doctor told him that if he would take Mary to a higher, dryer climate her inflammatory rheumatism would improve. The family thus went to Barber County, Kansas, and staked a claim near Lodi, southwest of Medicine Lodge.
While residing in Barber County, Kansas, Scott received an appointment as a U.S. Marshal and was given an arsenal which was stored in his home and built in the bank dugout fashion.
After two years on the claim near Lodi, Scott and his family moved to a new location 18 miles southwest of Medicine Lodge, known as "Last Chance". A post office was soon established at Last Chance and was named Canema after Scott and Mary's daughter, Nina Canema.
The CUMMINS family began operating a general store and a lodging house which served meals. Many cattlemen and cowboys stopped for meals, lodging and supplies as Last Chance was located on the old cattle trail from Fort Supply, Oklahoma Territory to Honeywell, Kansas.
---
Scott CUMMINS made the great Land Run into the Cherokee Strip on September 16, 1893, and staked a claim on the banks of the Salt Fork River, three miles south and seven and one-half miles west of Hardtner, Kansas. The family lived in a dugout and later Scott built a farm house near Winchester, Woods County, OK.
Scott served four years as baliff of the district court of Woods Co. under Judge J. Pancoast and was U.S. Land Commissioner for six years.
---
On January 24, 1903, after a prolonged illness, Mary Melinda CUMMINS died. She was buried on a knoll just west of the family home alongside Scott's mother Mary Ann CUMMINS.
Scott continued to live on the home place. He occupied his time by writing books, Musings of the Pilgrim Bard, Owaaneo (Pale Flower), and Twilight Reveries.
---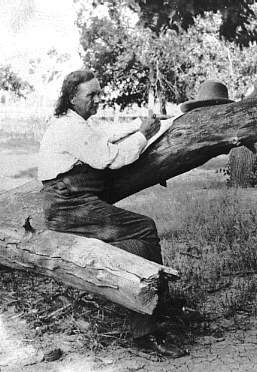 Scott CUMMINS was a deeply spiritual man due to the early teachings of his father who preached for over 55 years and his own reading and interpretation of the Bible. Many of his poems tell of the wonders of nature and give credit to the great God of man and nature. Scott sought no notoriety and preferred the quietness of his own home and family to the public limelight.
---
On March 24, 1928, Scott CUMMINS, known as the PILGRIM BARD, died. He was buried at the Alva Municipal Cemetery. Although he is no longer with us in body, his spirit lives on in his works.
---
"Comrades, time creeps slowly onward,
All our heads are frosted o'er;
Soon the time and place that knows us now
Will know us never more.
One by one fall leaves of autumn
Till the ground they thickly strew;
One by one like leaves of autumn
Fall the wearers of the blue."
---
"They who rallied round Old Glory
One by one pass o'er the tide;
Few are left to tell the story
Of the days men's souls were tried."
---